Information you should study  
For Cosmetic Acupuncture in Torbay
Avoid Cosmetic Acupuncture if you suffer from these conditions      
High Blood pressure if uncontrolle

d.

Epilepsy.

Easily bruised including patients on blood thinning medication.

Haemophiliacs.  

Skin Cancer.

Within 4 months of Botox injections into area to be treated.

If pregnant avoid Abdominal Acupuncture.
Results

 
Works in 90% of cases. Be realistic, Acupuncture works with your skin and body. If you have deep, multiple lines these will not go but will fill out making your face look younger. Microcirculation will improve so your skin tone will be much better. 
Please bear in mind that these photos were taken by me, as they were taken on different days the lighting is different. This is always the problem with this type of photo.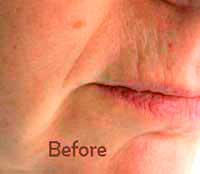 Commitment

 
You need to commit to 10 treatments for realistic results. If you give up after a few you will not achieve very much. This is why it is a good idea to pay for the treatments at the beginning, then if you do start to weaken you will know that you have already paid and will carry on until the end.
The following can lessen the results
Smoking – Chemicals in cigarettes actually damage the skin making you look older. I can help you to give up as part of the treatment.
 
Sun damaged skin – always use a good sun block.
 
Harsh soap – can cause your skin to react adversely.
 
Poor diet – You need good nutrients to nourish your skin.
 
Excess alcohol – damages your liver and in Chinese medicine heats up the blood causing damage to the skin.
Are there any side effects from Cosmetic Acupuncture?

 
Acupuncture can rarely cause bruising to the skin this will go quickly. It is best to apply Arnica cream or gel before treatment. Occasionally when the needles are removed, the points may bleed. 
Ways to help the treatment

 
Stop smoking. I can help. Do not wear make-up in the Clinic. You can take it off when you get here. Use sunscreens. No heavy moisturisers before treatment. Do not take Vitamin E above 800mg or Aspirin unless on prescription for two weeks prior as this can increase bruising. Have a good diet. Side effects are much lower with Cosmetic Acupuncture than many other Cosmetic treatments.
Above all, be positive!

 
Acupuncture offers a holistic approach to address the actual causes of skin aging. Surgery, Botulism toxin and Collagen injections do not do that. They mask, without correcting, the underlying problems.